Hello Friends,
Welcome to our blog One Beginner! Please subscribe & stay tuned for new ideas & daily dose of inspiration. You can follow us on Facebook, Instagram & Twitter.
"Do not read Success stories, you will get only message …. read failure stories, you would get ideals to get Success" – A.P.J. Abdul Kalam.
In my view there is no thing as Failure. failure seems a dangerous word. Not passing in an exam or couldn't crack particular test with expected score is not at all a Failure . its just a misfired Shot. you need to gather enough courage, Focus & will to hit the target head on with all your enthusiasm.In life there is no thing as failure. It tried numerous things, most of them did not worked out, I didn't see myself as failure. I lost my lot of money in trying diverse things in my career, I didn't see it as money lost, I took at it as Money invested to gather experience. All such events were just few misfired shot in my biography. See, there is either success or Experience, there is no thing as failure.
Failure isn't Really failure! Its your viewpoint! Don't get stuck on that view or bad Memories, Bad Experience! Wake up! Jump start &  Move On! As you keep on walking forward towards the path of your dreams it would vanish slowly, slowly & fade away like a dust.
Henry ford forgot to put Reverse Gear in the first car he built, Elon Musk's first few rockets misfired & he lost hell lot of money & hours he invested, People laughed on them. speculated about their vision, Criticized them for such mistakes, still they did not consider themselves as failure. They used such events as stepping stones to reach the next level. In the journey of fulfilling your Dreams. You may fall thousand times, Falling is not a problem, Failing to get up is the Real Problem. @ Mahendra Kapady.
I am sharing some quotes from highly successful People to understand their view over failure.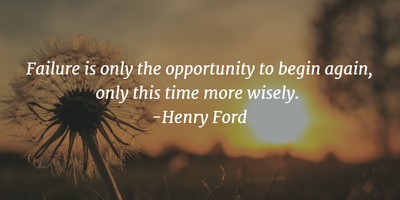 "Success is ability to go from failure to failure without losing your enthusiasm."     – Winston Churchill.
"Do not Judge Me by my success, Judge Me by how many times I fell down and get back up Again" – Nelson Mandela.
–  1Beginner!
Feel inspired.Please like, share , comment & subscribe. Together we can.
1beginner@2018, All Rights Reserved.